Olympic cyclist to start county bike ride!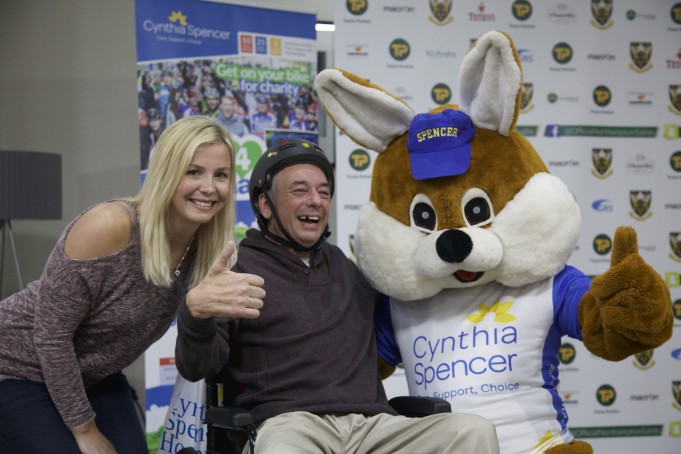 Double Olympic medal-winning cyclist Becky James will show her continuing support for Northampton's Cynthia Spencer Hospice by setting off the riders at the county's favourite annual fundraising bike ride, Cycle4Cynthia, next month!
The former Welsh international, who announced her retirement from the sport last week after picking up two silvers on the track in Rio last year, now lives in the county with her partner, British Lion, Wales and Saints winger George North, and says she's thrilled to be firing the starting hooter, thereby following in the footsteps of those celebrities who have previously generously performed the honour, including singer-songwriter Curtis Stigers, former Generation Game hostess Isla St Clair, and Radio 2 DJ Jo Whiley!
"George and I went to the launch of the ride back in April and it was amazing to hear not only what a great event it is from former participants, many of whom have ridden in it for years, but also what it means to those patients and families who are supported by the incredible team at the hospice" explained Becky.
"Cycling has been such a big part of my life and it's a great thing to do, whether you're a regular rider or just fancy the occasional pedal on a sunny Sunday, so I really hope that lots of cyclists will join us and make this the biggest and best year yet!" she added.
Last September more than 1100 riders of all shapes and sizes, ages and abilities jumped into their saddles, raising £76k for the Hospice and this year, its fundraising manager, John Helm, hopes that Becky's involvement will help to better both of those figures: "Cycle4Cynthia is the biggest fundraiser in the calendar for us so we would urge anyone with two wheels to come out and support us and meet this true sporting hero!
"Of course there are no prizes for crossing the line first, as Becky's used to, but we do give everyone who takes part a commemorative medal, and there are also trophies for the largest team, the most sponsorship raised and the best fancy dress so if you're feeling competitive, you can always give one of those a go!" he enthused.
Cycle4Cynthia 2017 is taking place from 9am on Sunday 24th September at Lamport Hall with 5, 25 and 50 mile routes on offer. Entry is £15 for adults, £7.50 for children and £35 for families (rising after 1st September).
You can register for the ride on the 'Register' page of this website or for more information call the Hospice on 01604 678082 or email fundraising@cynthiaspencer.co.uk
You can also purchase the limited edition C4C 2017 cycling jersey, priced at £25, from the Hospice's ebay site at www.ebay.co.uk/itm/-/232432899749
Meanwhile, to keep up to date with the latest news on the event, please visit and 'like' the ride's and Hospice's page on Facebook.