World champion saddles up to launch cycling fundraiser!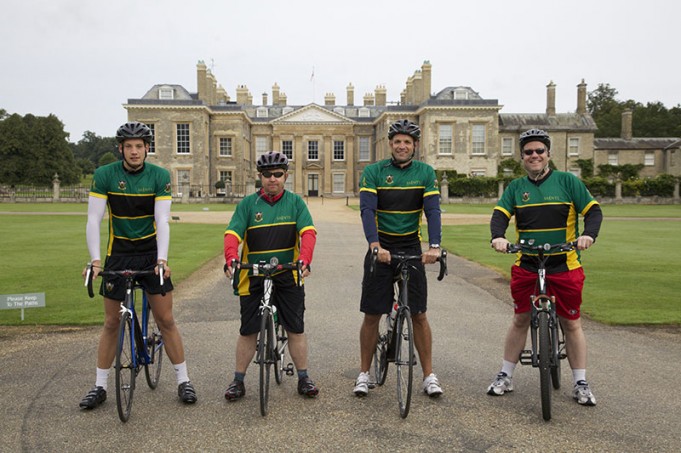 Saints, England and world champion rugby player Harry Mallinder will be switching the funny-shaped ball for a bike in support of Northamptonshire's favourite annual fundraising ride when he launches Cycle4Cynthia 2018 next week!
The Franklin's Gardens favourite will follow in the footsteps of his father, former club coach Jim Mallinder, in presenting the trophies at the event which marks the start of the fifteenth year of the cycling spectacular.
Among the prizes he'll be handing out are those for the most money raised by an individual at last year's event at Lamport Hall and the Chairman's Award, which is given in recognition of a special contribution to the ride.
In addition, the total amount raised in sponsorship will be revealed - of which every penny will go to support the invaluable work of Cynthia Spencer Hospice - while the details of this year's ride will also be announced.
Harry, who captained the England side to the World Under-20 Championship title in 2016, is no stranger to the charity, having ridden, then aged sixteen, in Cycle4Cynthia alongside his Dad when it was held at Althorp back in 2012.
He follows in a long line of those from the Saints to have pledged their commitment to the event, including Welsh international George North, who performed the same honours with his double Olympic medal-winning cyclist partner, now fiancée, Becky James last year, while former All Black, Bruce Reihana and England captain Dylan Hartley have also fired the starting gun at the autumn ride.
The Hospice's fundraising manager, John Helm, says he's thrilled that the Saintsman is involved again in this way; "We're really proud of the link we have with the club and so it's another massive boost to have Harry with us at the launch" explained John.
"It also seems very appropriate as one of the themes for this, our fifteenth year, is family, so we're hoping that the Mallinders' support of recent years will prompt lots of fathers and sons, mums and daughters and sisters and brothers to leap into their saddles and help us raise yet more funds for such a deserving cause!" he enthused.
Cycle4Cynthia 2018 is being launched in the Heroes Bar at Franklin's Gardens, the home of Northampton Saints, at 6.30pm on Tuesday 27th March.
For more details of the event, or to learn more about the ride's sponsorship opportunities, please call the Hospice on 01604 210941 or email fundraising@cynthiaspencer.co.uk
Meanwhile, to keep up to date with the latest news on the event, please visit and 'like' the ride's and Hospice's page on Facebook.